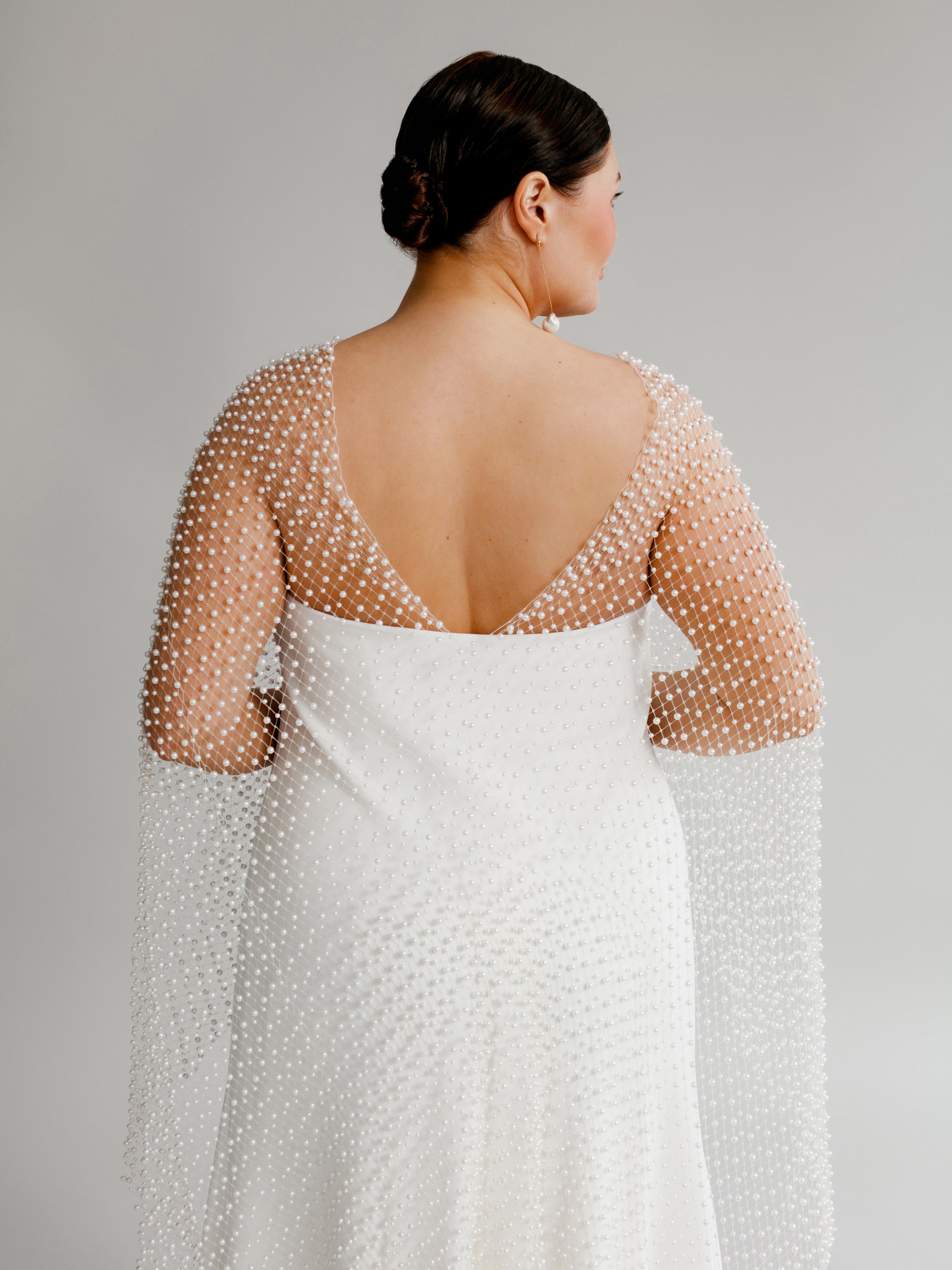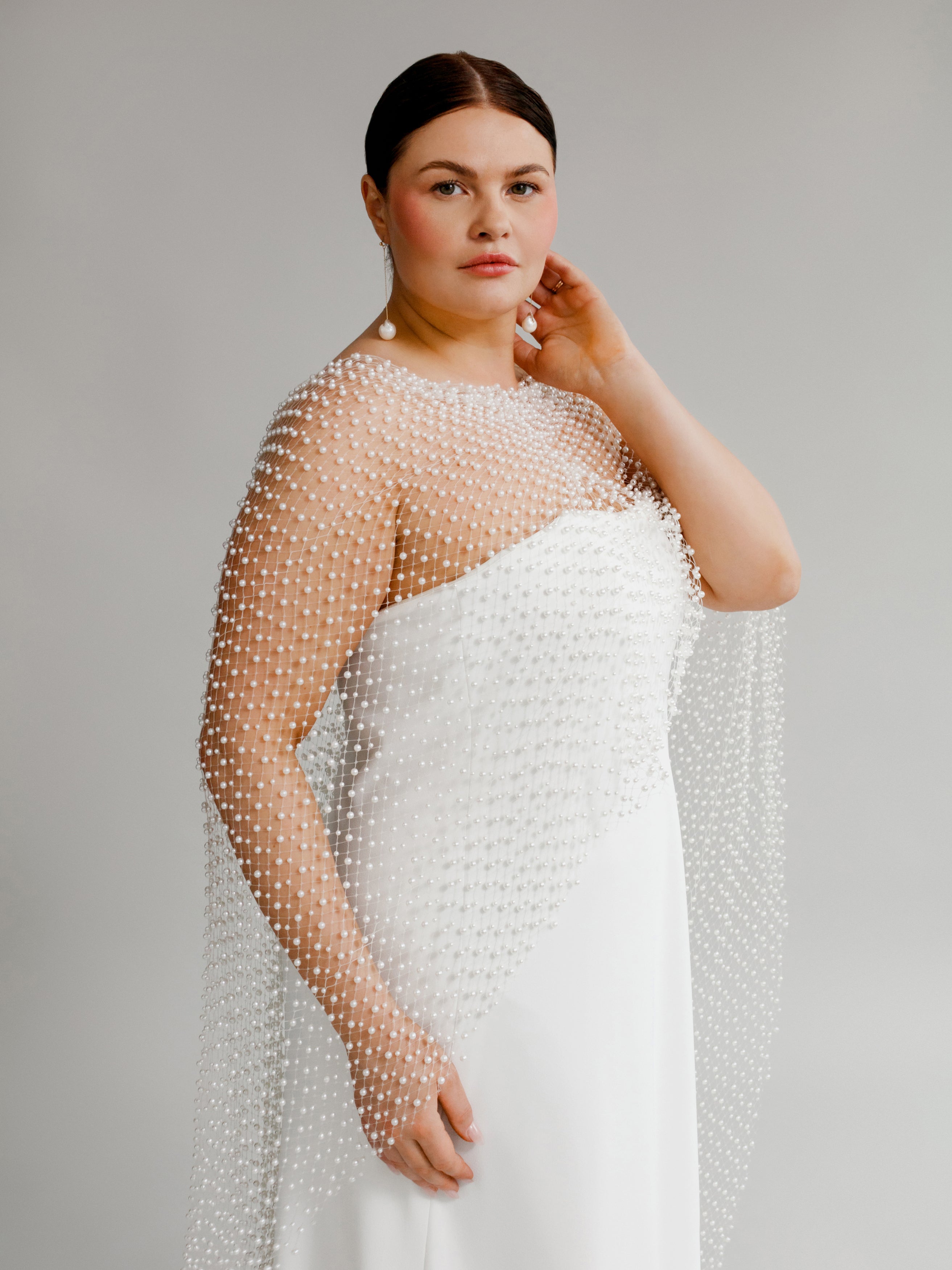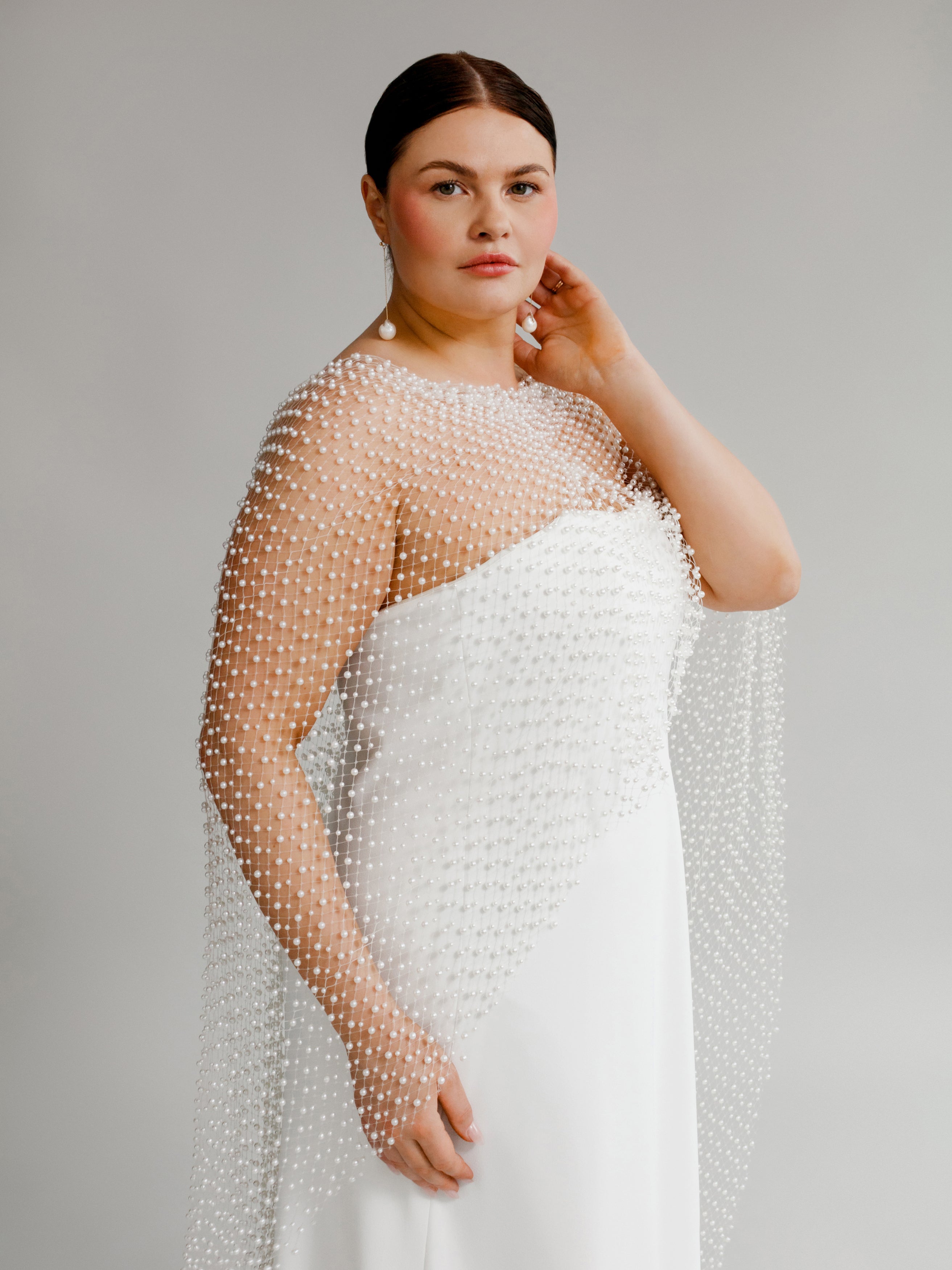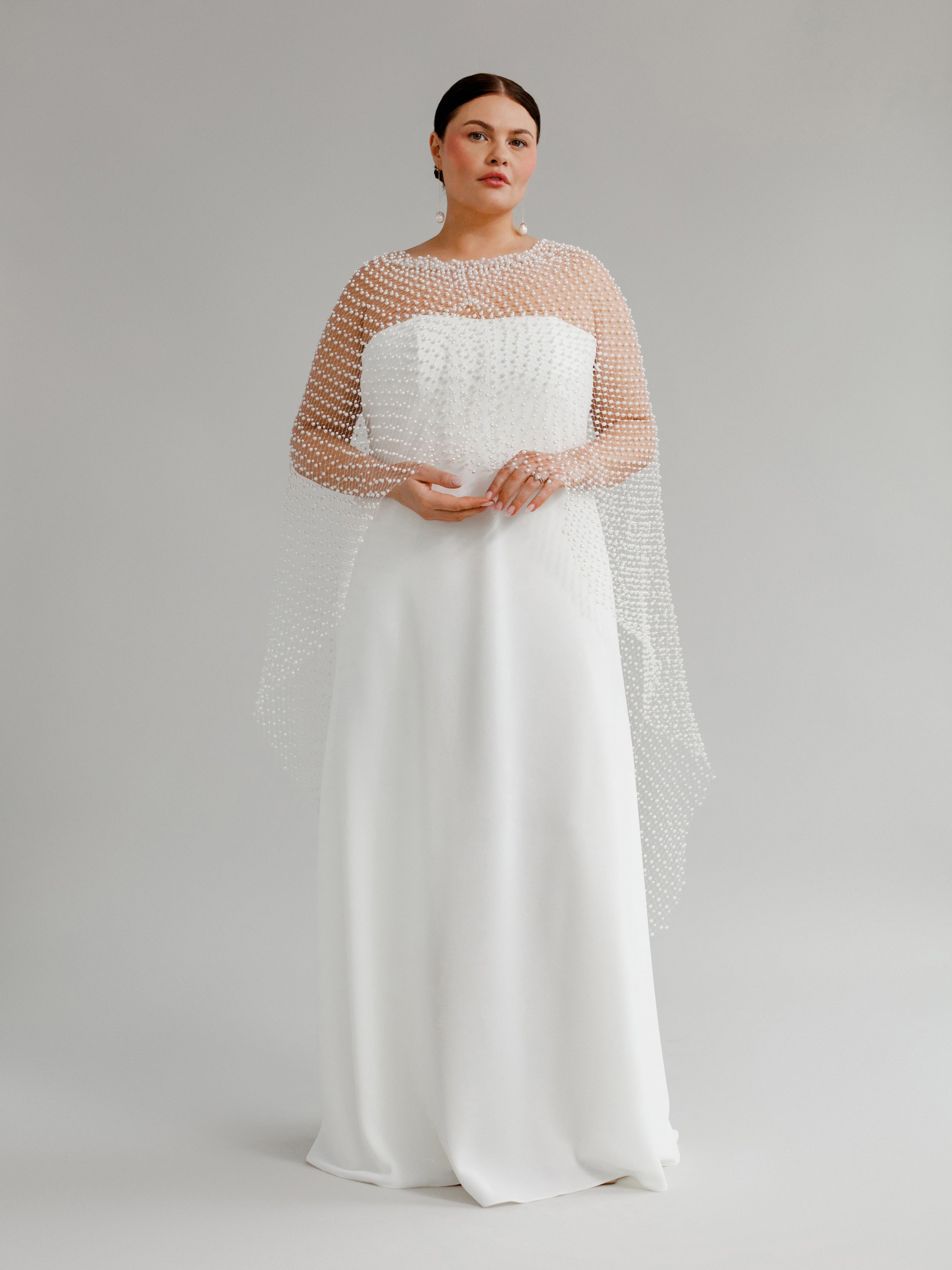 A romantic bridal cape made from delicate pearl netting.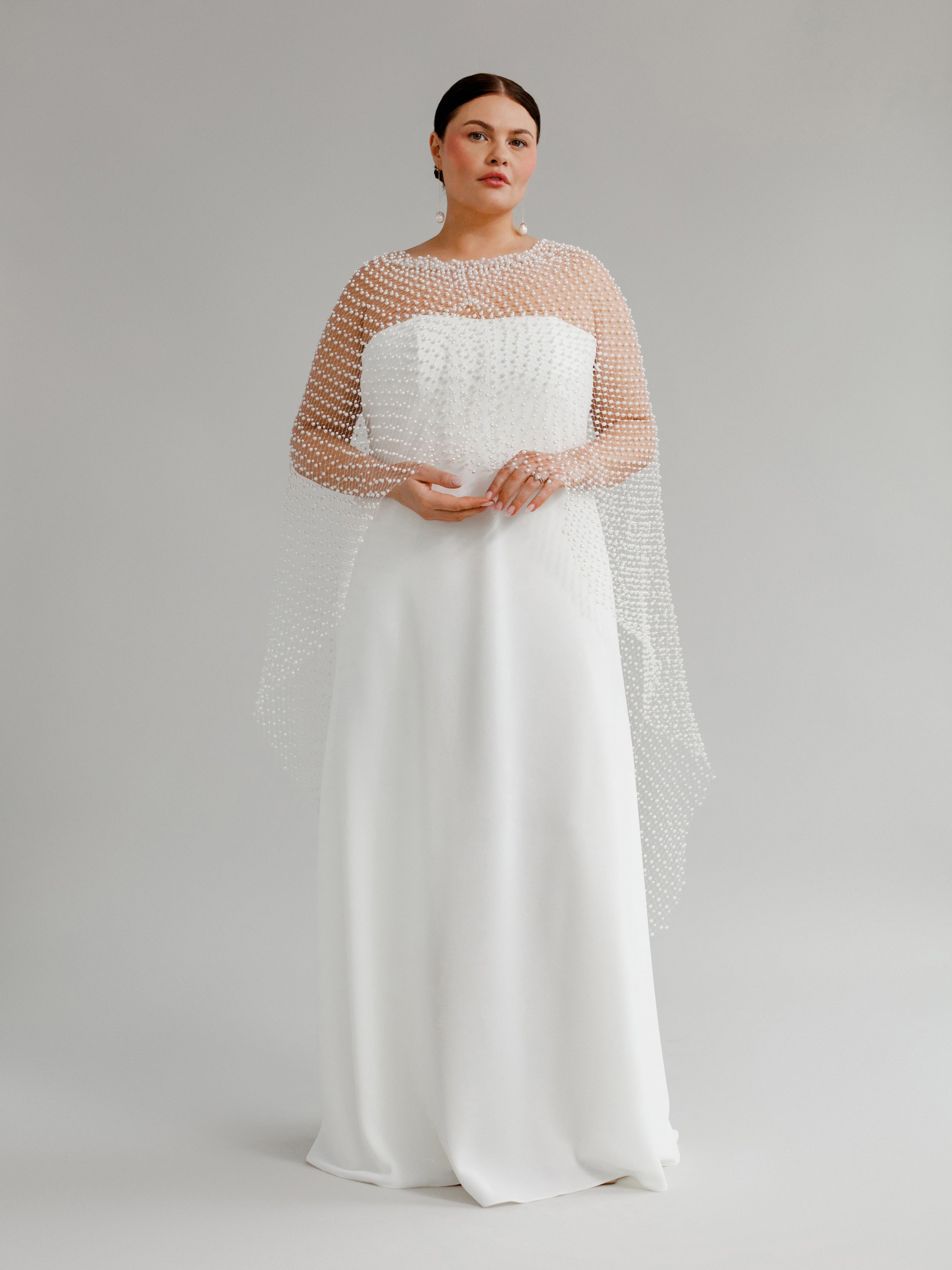 A romantic piece that pairs with many Aesling styles. The Pearl Cape drapes from the shoulders to the calves in delicate pearl netting. Ruched at the centre front and featuring an open back, the Pearl Cape is a statement overlay that shows off your gown beneath.
The Pearl Cape is one size. Pictured on a size 2 and a size 18. Please note this listing includes the cape only; Leonora dress sold separately.
Standard production for this item is 6 months. Rush orders as well as customizations are available at an extra cost; please email info@aesling.com for further information.
Designed and created in Vancouver, Canada. Inspired by form + architecture.
| | | | |
| --- | --- | --- | --- |
| Size | Bust | Waist | Hip |
| 0 | 31"-32" | 24"-25" | 35"-36" |
| 2 | 32"-33" | 25"-26" | 36"-37" |
| 4 | 33"-34" | 26"-27" | 37"-38" |
| 6 | 34"-35" | 27"-28" | 38"-39" |
| 8 | 35"-36" | 28"-29" | 39"-40" |
| 10 | 36"-37" | 29"-30" | 40"-41" |
| 12 | 38"-39" | 31"-32" | 42"-43" |
| 14 | 40"-41" | 33"-34" | 44"-45" |
| 16 | 42"-43" | 35"-36" | 46"-47" |
| 18 | 44"-45" | 37"-38" | 48"-49" |
| 20 | 46"-47" | 39"-40" | 50"-51" |
| 22 | 48"-49" | 41"-42" | 52"-53" |
| 24 | 50"-51" | 43"-44" | 54"-55" |
| 26 | 52"-53" | 45"-46" | 56"-57" |