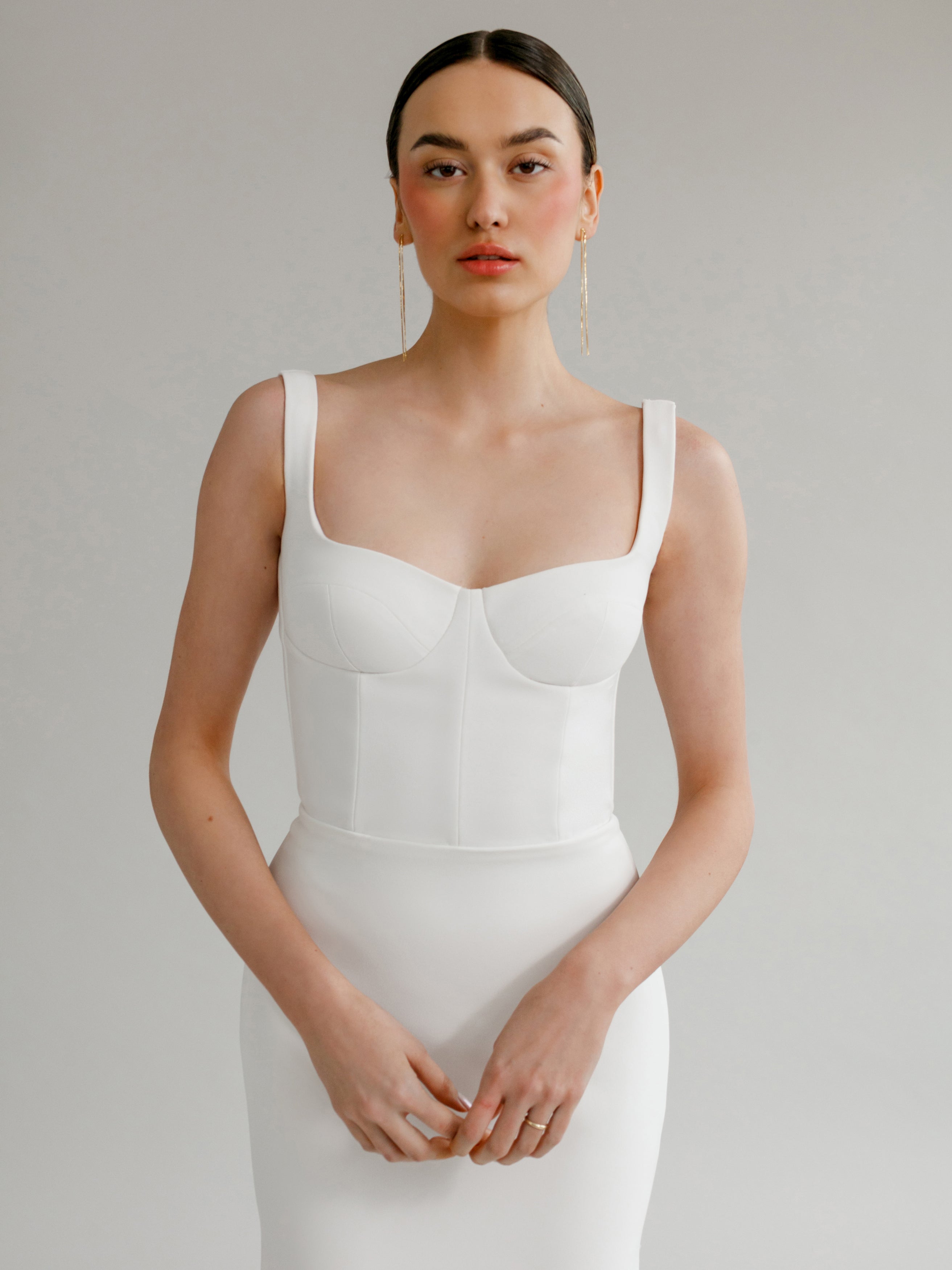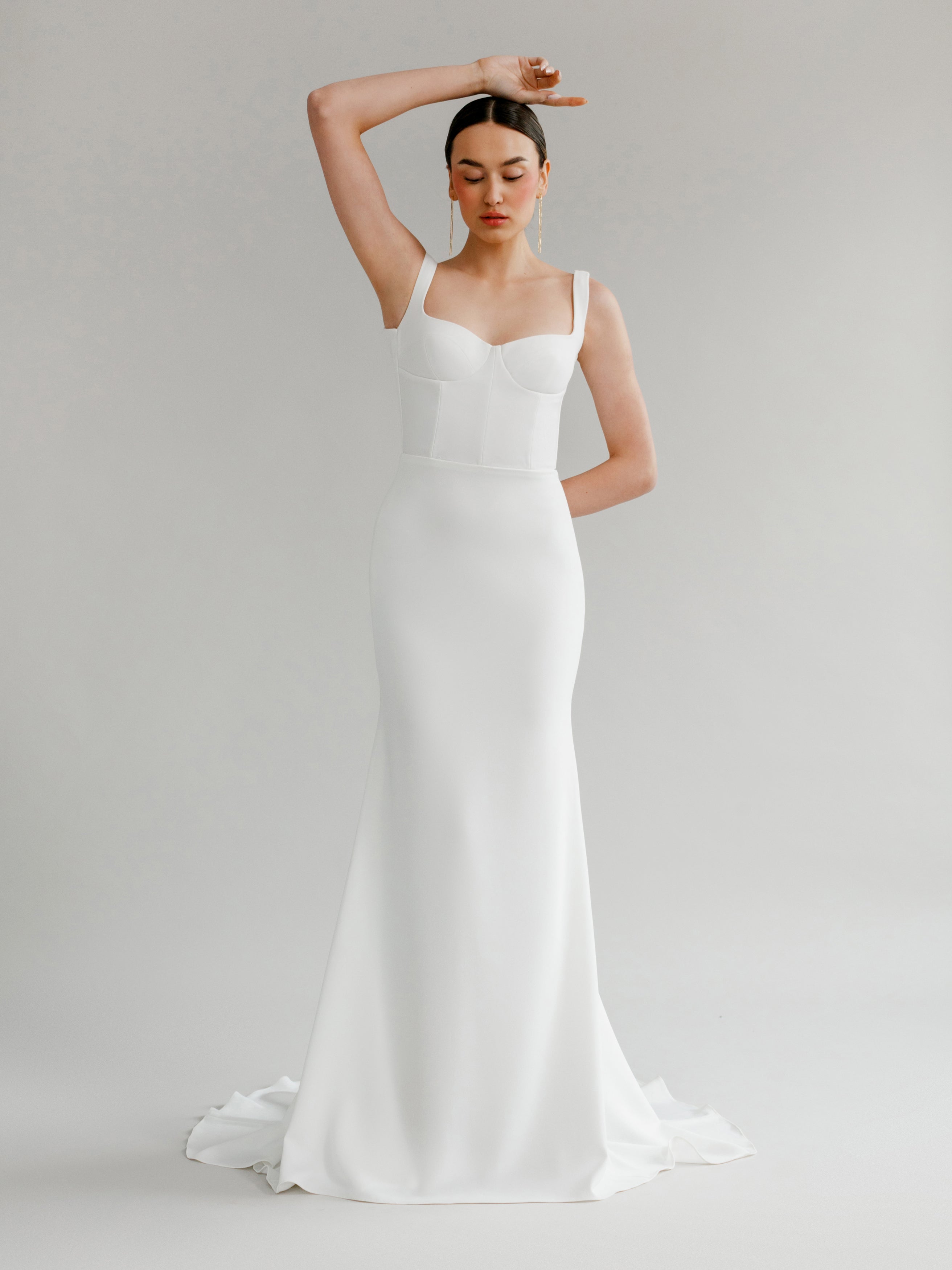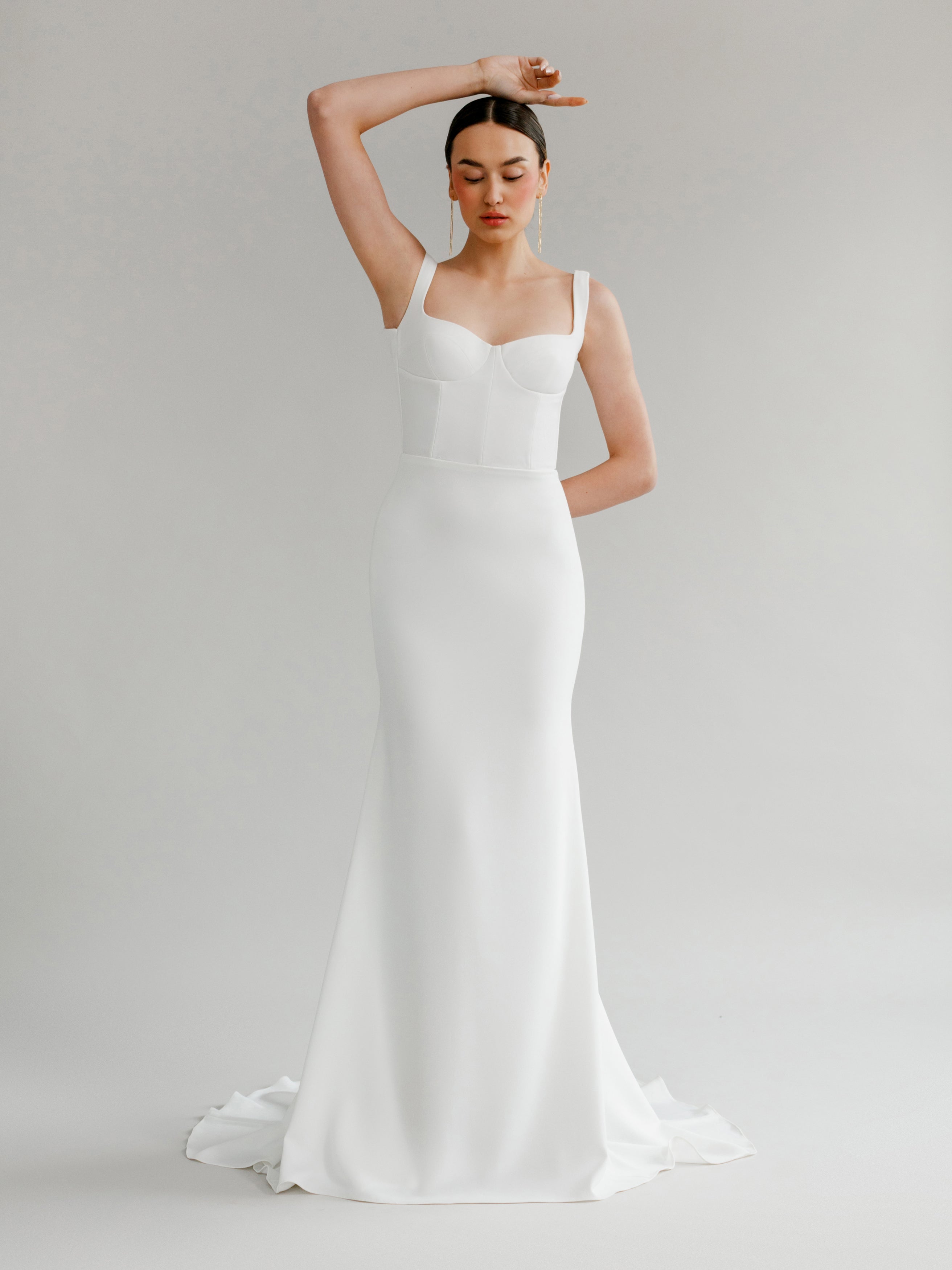 A wedding gown with a bustier-style bodice + low back
Angelica brings a balanced touch of drama to a minimal silhouette, featuring a zipper-closure bustier-style bodice with a high-scoop back for extra comfort and support. Brides can opt to wear Angelica sleeveless, or with any of Aesling's sleeve pairings. Angelica is finished with a fitted modern mermaid skirt, in liquid satin or our signature crepe, with a 65 inch train. 
Angelica works with all Aesling sleeve pairings, which can be purchased separately. Angelica is pictured with the Pearl Bell Sleeve and the Creponne Bell Sleeve.
Like all of our gowns, Angelica is also available in size 16+. In Angelica's curve pattern, we adjusted the cup to have an extra seam, added boning, and shaped the waist and hip lines for greater support and comfort.
Standard production is 6 months, with 6-8 weeks advised for alterations once you receive your gown. Rush orders as well as customizations are available at an extra cost; please email info@aesling.com for further information.
Designed and created in Vancouver, Canada. Inspired by form + architecture.
| | | | |
| --- | --- | --- | --- |
| Size | Bust | Waist | Hip |
| 0 | 31"-32" | 24"-25" | 35"-36" |
| 2 | 32"-33" | 25"-26" | 36"-37" |
| 4 | 33"-34" | 26"-27" | 37"-38" |
| 6 | 34"-35" | 27"-28" | 38"-39" |
| 8 | 35"-36" | 28"-29" | 39"-40" |
| 10 | 36"-37" | 29"-30" | 40"-41" |
| 12 | 38"-39" | 31"-32" | 42"-43" |
| 14 | 40"-41" | 33"-34" | 44"-45" |
| 16 | 42"-43" | 35"-36" | 46"-47" |
| 18 | 44"-45" | 37"-38" | 48"-49" |
| 20 | 46"-47" | 39"-40" | 50"-51" |
| 22 | 48"-49" | 41"-42" | 52"-53" |
| 24 | 50"-51" | 43"-44" | 54"-55" |
| 26 | 52"-53" | 45"-46" | 56"-57" |