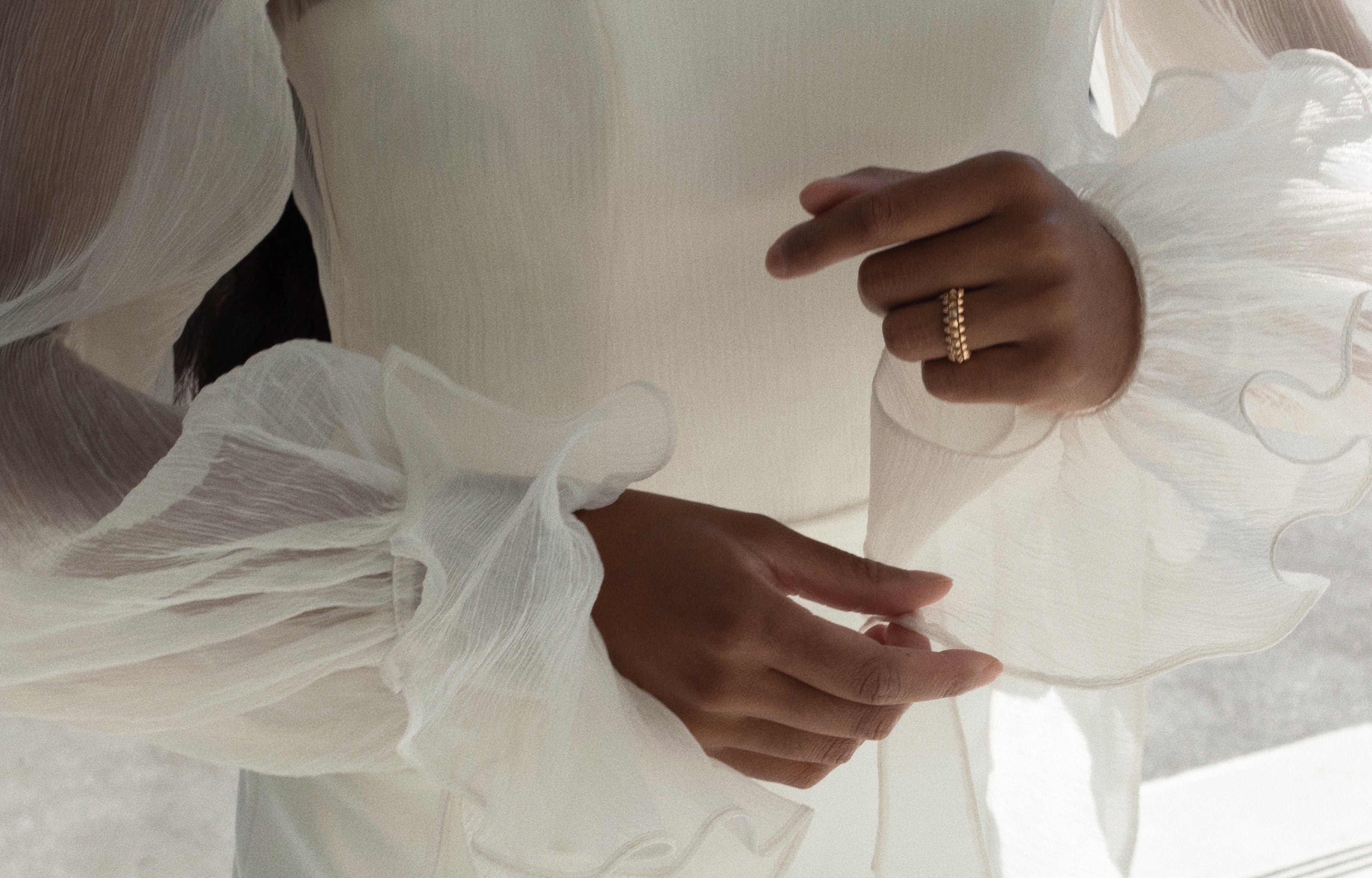 Meet the Aesling 2022 Collection
As a brand, Aesling has always been driven to distill beautiful architectural elements into minimal, elegant garments. This collection is no different—only a bit more dramatic.
The sites which serve as inspiration for this collection are all places of worship. For these beautiful buildings—cathedrals, mosques, basilicas—the architecture is a form of worship itself. Here, the pursuit of beauty is not only an aesthetic concern, but a divine one as well. 
"Translating these architectural forms into gowns is a wonderful challenge for us," says Gaby Bayona, Founder and Creative Director at Aesling. "Each gown becomes a monument to these remarkable structures—but as their opposites. Architecture must be hard wearing, rigid, and inflexible; our gowns are luxurious, flowy, and graceful. It has been a real joy to create these gowns while preserving the relationship between the gown and its inspiration."
A Flair for the Dramatic
This collection features several dramatic additions to the brand's minimalist vision. In 2022, Aesling added gigot, bishop, and bell sleeves to its roster of elegant silhouettes.
In the Sophia Gown, named for the storied Hagia Sophia in Istanbul, Turkey, double layered bell sleeves take centre stage. Paired with a romantic unruched straight skirt or a trim modern mermaid, Sophia is the gown that will make guests gasp as you walk down the aisle. Perfect for the bride with a taste for the dramatic.
Then, there's Sistine, named for the Sistine Chapel in Vatican City. We matched Sistine's slim silhouettes with billowing bishop's sleeves that fasten gently at the wrist. Sistine's sleeves—in the same off-white crinkle organza as Sophia's sleeves—bring movement and texture to the gown, contrasting beautifully with the smooth crepe skirt and bodice.
The Perfect Silhouette
This collection also introduces a minimal, unexpected column skirt for perhaps the most striking silhouette Aesling has designed to date. 
Mahal is named for the soaring white marble Taj Mahal in Agra, and is rendered in a comfortable crepe finished with Italian stretch lining. Mahal's column skirt pays homage to the symmetrical minarets and square facade common to Mughal architecture—all paired with a back slit for better ease of movement. 
By contrast, Sagrada, named for the La Sagrada Família in the ancient city of Barcelona, pairs a column skirt with a strapless bodice, perfect for a minimalist bride. In another first for Aesling, Sagrada also pairs beautifully with a dramatic removable cape for a dynamic shift from ceremony to reception. 
Architectural Bridal Inspiration
In this collection, we sought to capture the essence of a given style of architecture in nothing more than swaths of luxurious fabric. 
This is most evident in gowns like Westminster. Named for the towering Westminster Abbey, Westminster's graphic architectural construction pairs billowing sleeves reminiscent of Old Master marble sculptures finished with a wide waistband. Made with luxurious crepe, Westminster is finished with buttons down the back and a comfortable Italian stretch lining. 
Then, Crystal distills the modern minimalism of Terengganu's Crystal Mosque into clean lines and a contemporary silhouette. Its square neckline is mirrored by its low, elegant back, and within the luxurious crepe of its unruched skirt—pockets. Crystal is perfect for the no-fuss bride that finds beauty in simplicity. 
Our Commitment to Size Diversity
This collection also brings some important changes to how we work at Aesling. 
"We're delighted to up our commitment to creating a brand, and gowns, for every body," says Bayona. "To start, we're creating inclusive brand imagery so curvy brides can literally see themselves in our gowns."
The 2022 Collection was photographed on three models—one wearing size 2, one wearing a size 6,  and another wearing size 16—to demonstrate how gowns may fit on different body types. This collection also includes curve-specific patterning, to ensure all brides look and feel their best on their wedding day.
Altogether, this collection is a celebration of some of the finest art in the world. It blends minimalism with an infusion of drama, so Aesling brides can be the true star of the show.
"Minimalism is part of Aesling's foundation, and with that comes importance in every component of the look. We want our brides to never feel overwhelmed or feel like the dress is too much," says Bayona. "I want a bride's true personality & beauty to shine through."∎