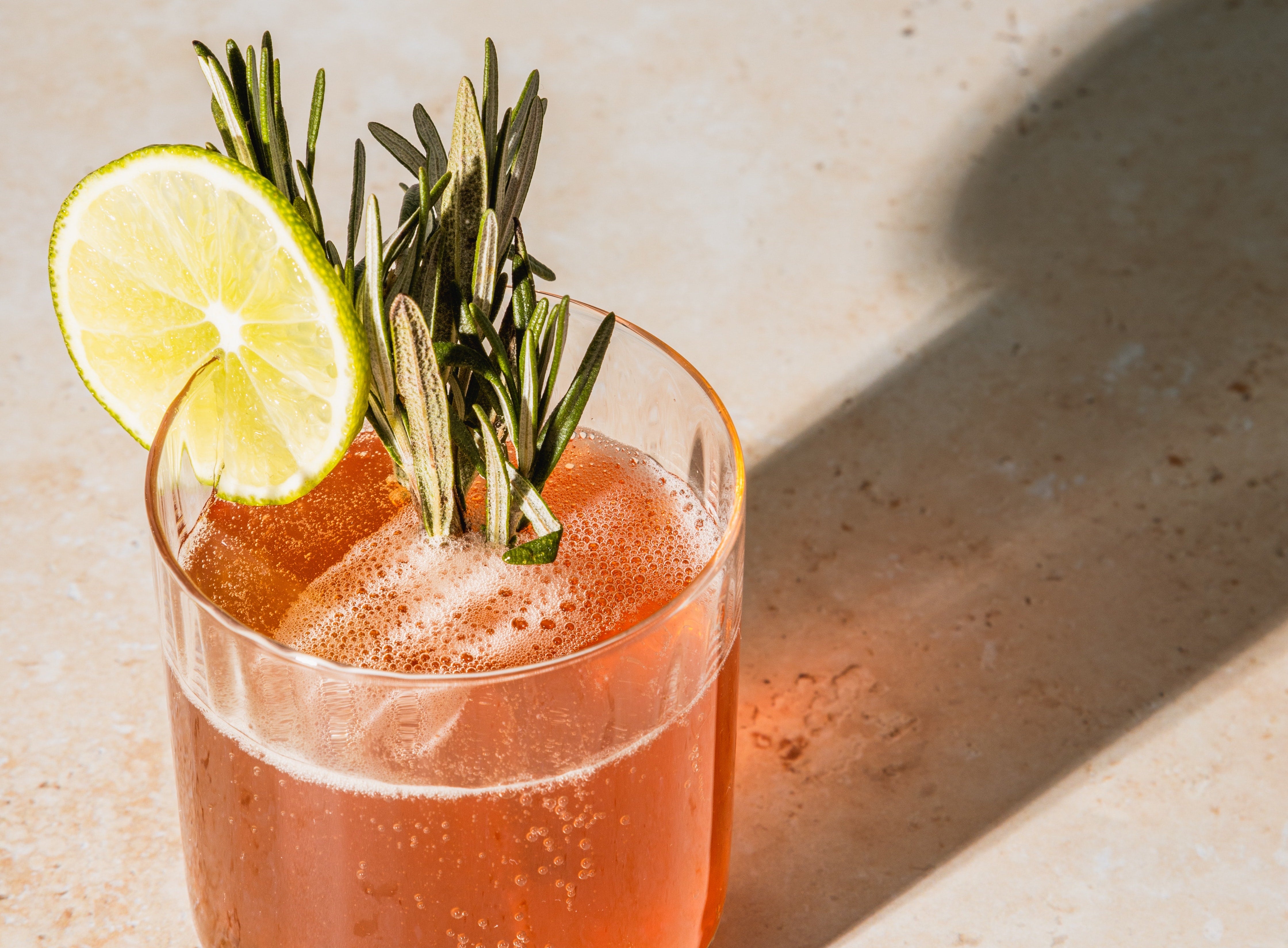 Fresh takes on spring wedding cocktails
Choosing a signature cocktail for your wedding can feel as difficult as choosing the perfect dress. Really: your signature cocktail should be unexpected but versatile, a general people-pleaser, and represent a special memory or value unique to your marriage.
It's a tall order. To give you a few ideas, our team rounded up a few of our favourite cocktails perfectly suited to the spring season. These are unfussy modern takes on classic cocktails that are sure to please a crowd. Happy tasting!
The Greyhound
Photo by Heidi's Bridge.
The Greyhound is a classic cocktail well-known for its straightforward proportions and bright, punchy flavour. Use vodka or swap it out for gin, or add a touch of infused simple syrup for endless flavour combinations—and trust the grapefruit juice to conjure that beautiful springtime feeling, even on a cloudy day.
Ingredients (for one cocktail)
2 oz. vodka or gin if you prefer

4 oz. grapefruit juice, fresh squeezed if possible 

1 oz. simple syrup infused with Rosemary (optional)
For the simple syrup, melt equal parts sugar and water in a small saucepan (for example, one cup of water to one cup of sugar) over medium heat. Stir gently to help the sugar dissolve completely, until you're left with a clear syrup. Add a handful of sprigs of fresh rosemary and let boil for about a minute. Then, shut off the heat and let your simple syrup steep with the rosemary in the saucepan for between 30 minutes and one hour. Easy! 
Once your syrup is infused and cooled, transfer to a sterile jar until you're ready to use it. 
To assemble the cocktail, add your vodka or gin, grapefruit juice, and simple syrup (if using) to your cocktail glass with lots of ice and stir until the glass is icy cold. 
Top up with more ice and add a little sprig of rosemary for garnish. Et voila! A cute spin on a classic cocktail. Add more grapefruit juice or simple syrup to taste as you or your guests prefer. 
The Americano
Photo by Heidi's Bridge.
The Americano is a lighter version of another crowd favourite, the Negroni. For many, Negronis can taste too herbal or bitter; the Americano substitutes gin for club soda for a lower overall ABV and a more palatable campari flavour. 
Ingredients (for one cocktail)
1 ½ oz. campari

1 ½ oz. sweet vermouth

Club soda to finish 

Orange twists for garnish
Like the best signature wedding cocktails, the Americano is incredibly easy to make. 
Take your highball glass and fill it with ice. Pour in your campari and vermouth, and give it a good stir to chill. When you're finished stirring, fill the rest of the glass to the top with club soda. 
Last, just run your orange twist around the rim of the glass and drop it into the cocktail, and you're good to go!
We love the Americano because it's less expected than the Negroni, but still packs that sophisticated, tart punch that we love.
The Black Manhattan
Photo and recipe from A Couple Cooks.
This flavourful spin on a classic Manhattan adds such depth to the typical profile of a rye whiskey that even the most rye-averse among us will find something to love about a Black Manhattan. With the addition of just one ingredient, amaro, this cocktail becomes something so unexpected, yet just as clean and simple as the classic cocktail from which it takes its name. 
Ingredients (for one cocktail)
2 oz. rye whiskey (or bourbon, if you prefer)

1 oz. Italian amaro, preferably Averna

1 dash angostura bitters

1 dash orange bitters

Cocktail cherries, for garnish
This cocktail is also simply stirred together, not shaken. Add your whiskey, amaro, and bitters into a cocktail glass full of ice. 
Stir until your glass is completely cold to the touch—about 30 seconds but up to a minute. 
(When your glass is cold to the touch, this means the entirety of your cocktail has chilled. This is also the best rule of thumb when making cocktails using a cocktail shaker—shake until it's so cold that it's tough to hold!)
Next, pour into a cute coupe glass and garnish with one (or two or three!) cocktail cherries of your choice. Sip and enjoy. 
When choosing your signature cocktail, you don't need to reinvent the wheel. Choosing a classic cocktail, especially when you can conjure the flavours of the season with a simple variation, is a no-fail recipe for success.
Just pair with your favourite statement earrings and sky high heels, and enjoy. Happy spring and happy wedding planning from the Aesling team! ∎