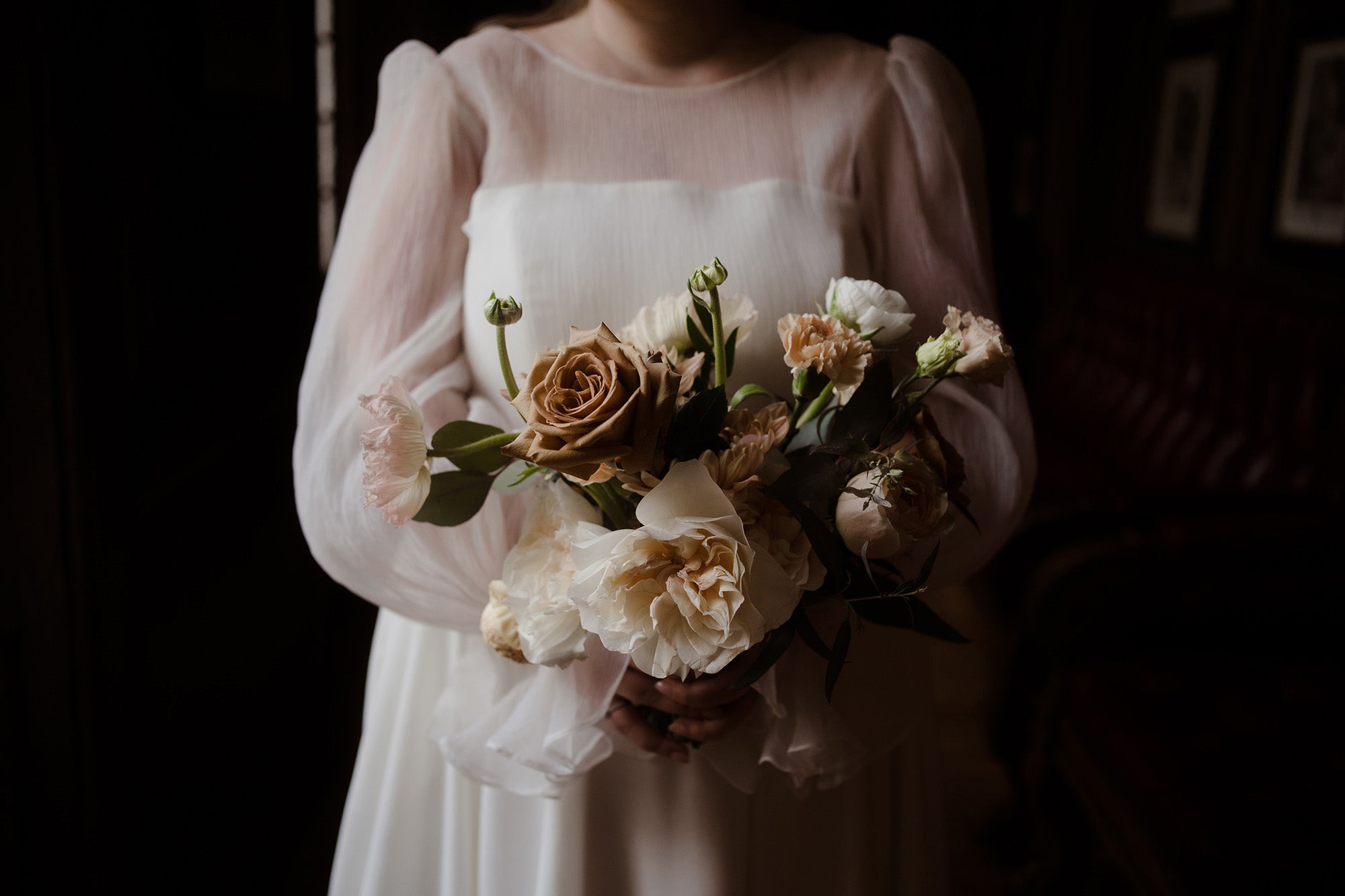 Aesling in the Press
There's nothing better than seeing an Aesling gown on a happy bride. That's why we love these little stories that crop up as media features – where we can get the full love story, all captured in gorgeous, glossy photography. It's also a real honour for our team to be featured; every year, we work hard to create refined, sophisticated gowns that still capture the romance and whimsy of a wedding day, and it feels really good to be recognized for our efforts. 
So whether it's the real-life stories of beautiful brides or round-ups of our immensely talented peers, it always makes our day to see Aesling gowns in the spotlight. Here are a few of our recent favourites.
This real wedding gallery is a must-see. Brides Sophie and Daphne are glowing with happiness, and their outfits are head-to-toe perfection. Match that with their incredible venue and you've got a formula for a perfect big day. 
Sophie picked up our Sistine gown (Version II) from our beloved London UK retailer, Heart Aflutter. "I was immediately drawn in by the sleeves and the open square back," she said of Sistine's silhouette. We love any bride willing to make a statement with some airy, gauzy, sleeves. 
We're delighted one of our gowns could play a part on Sophie's and Daphne's big day!
We have a serious (but only in jest!) amendment to make to this article title from Love Inc. Because Sadie's and Jody's elopement was *high-key* gorgeous. The vibe may have been laid back, but it's obvious that every little detail was considered, and the result is a truly beautiful day for this gorgeous couple. 
Here, our Panacea gown brings a feeling of levity and grace; it pairs perfectly with the other accessories chosen by the brides. This all demonstrates exactly how cool and stylish this couple really is. Major bonus points for the brides' amazing nails! 
We love a statement sleeve as much as the next person, and we're delighted that RMB feels the same way. Statement sleeves aren't for everyone, no, but as a brand inspired by the achievements and beauty of sculptural architecture, they sure are for us and our brides. 
We love RMB so much for their ongoing support of Aesling over the years. We can always count on them to be the tastemakers for every new wedding season, and we're so delighted to be included on this amazing list of talented designers. 
Brontë Bride is also one to love for their ongoing support of Canadian designers. We belong to a cohort of designers that are constantly striving to create new, beautiful gowns for the people we love most: our community. To be included in this roundup is a real honour for us.
Now, we're not often in Northern Ireland, but our amazing retailer Ivory & Pearl sure is – and their amazing work with Irish brides has helped our gowns find brides all the way on the other side of the pond. 
These features go to show that so much of our work is about our community – between our brides, our peers, and our retailers – because without them, we'd never be able to do what we do. And, if you hadn't guessed already: we love what we do! ∎